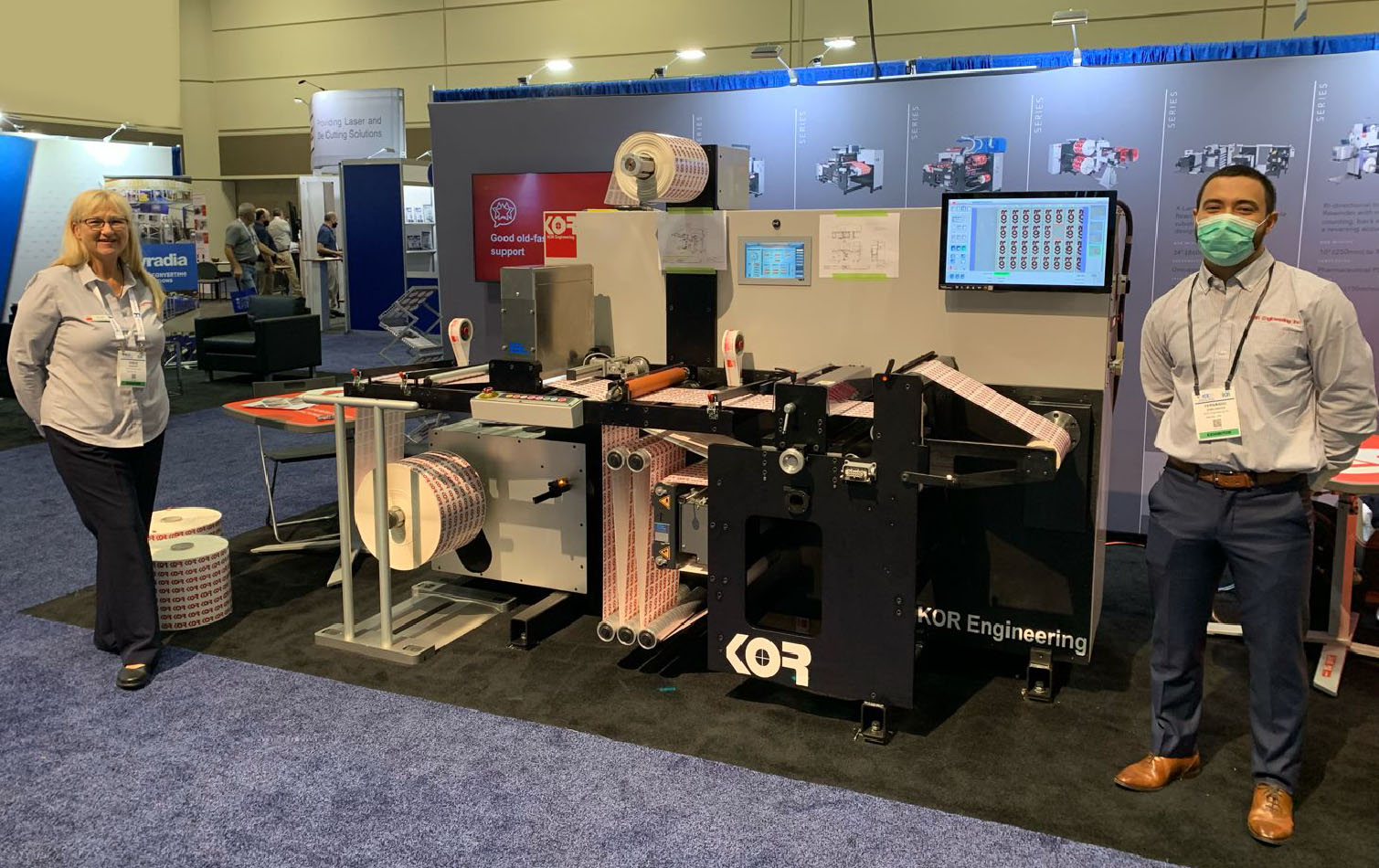 ICE & Label Congress 2021 Recap
We couldn't be happier to be back on the international trade show circuit after a long absence. Here's a recap of the international trade shows we recently attended and where we're heading next.
Label Congress 2021
We attended Label Congress 2021 last month at the Donald E. Stephens Convention Center in Chicago, September 29 and 30, 2021.
Label Congress 2021 was one of the first in-person shows for the label industry in the U.S. It was a new event from the Labelexpo team, providing a much-needed opportunity for the industry to learn, connect and network in person. The show included a conference program and an expo featuring some of the largest suppliers in the industry. After being apart for so long, it was fitting that the theme of the show was reuniting the label industry #LabelReunion. The two-day tradeshow ended with a #LabelReunion party.
Our big, newly redesigned booth was busy with foot traffic. We connected with customers and met new contacts from small business enterprises. We also gave lots of demos of our AS2-350 auto positioning slitter in action.
In case you haven't seen it, our A-Series slitters are available with many of our Inspection Slitter Rewinders, most of which have interchangeable slitter cartridges. They can also be retrofitted to existing machines. In fact, we will work with you to retrofit any of our machines to meet your needs—including giving you other slitter cartridge options. Our auto-slitter works with many of our machines
For our team, this was our first show since the March 2020 Label Summit in Santiago, Chile. We were so happy for the opportunity to get on the road again meeting with people in person. It was clear from the showroom floor that everyone in attendance felt the same.
International Converting Exhibition & Conference USA
Our next stop was Orlando, Florida, for the International Converting Exhibition & Conference USA, October 19 to 21, 2021. ICEC USA, formerly called the International Converting Exhibition USA, is America's leading exhibition for paper, film, foil and nonwovens converting. This biennial event took place at the Orange County Convention Center in Orlando, Florida.
We demonstrated the SR4-350, a high-performance label Inspection Slitter Rewind equipped with an E+L Smartscan system, roll lifter, waste rewind and our simplest razor slitter cartridge. The AS2-350 auto positioning slitter was also on display at the booth.
It was great to see the international converting industry in action. The show was well-attended and our booth was busy demonstrating how our auto-slitters dramatically reduce setup and changeover times and improve the accuracy and repeatability of slitting.
Upcoming shows
The next stop on our international trade show schedule: Shanghai, China, at Labelexpo Asia 2021 December 7 to 10, 2021. This is very exciting for our team and the first of many shows in Asia. If you're in Asia for one of these, be sure to introduce yourself to Phil Wang who heads sales for mainland China, Taiwan and Hong Kong.
In Spring 2022, we're off to Labelexpo Europe (Brussels, Belgium), Flexo & Labels (Sao Paolo, Brazil), and Labelexpo Americas (Chicago, USA).
Will you be attending any of these shows? We'd love to connect with you there. Please contact us to book a 1-on-1 in-person meeting and stop by our booth for a gift. We hope to see you soon!