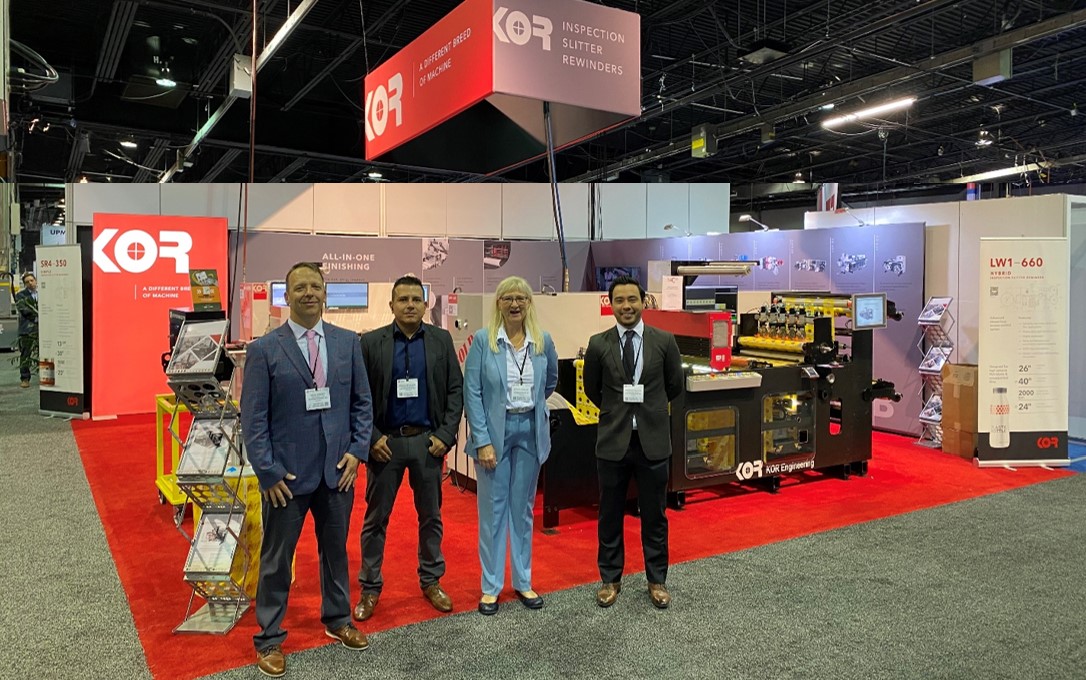 Labelexpo Americas round-up
If you'd like to receive KOR updates and announcements like this one direct to your inbox, subscribe here

---
After attending several label industry events around the world in 2022, this month's Labelexpo show was a stand-out. We were struck by the high attendance and a buzz on the showroom floor that we haven't seen since pre-covid times. People came from a long way away, too: the far reaches of the US, Canada, Mexico, and Latin America.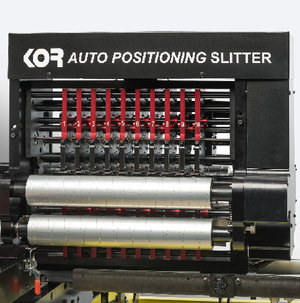 Most notable was the huge interest in automation tools. We had dozens of conversations about our auto-positioning slitters and the different vision inspection systems that integrate with our machines. There were three on display at the show:
EyeC ProofRunner on a 26" KOR LW1-600
BST TubeScan on a 13" KOR SR2-350
AVT Helios on a 13" KOR SR2-350 with auxiliary web on vision system module
The KOR AS3-350 slitter was also on display. Shown here, it's one of our most sophisticated automation add-ons, and is interchangeable with other KOR slitter cartridges so that you can quickly adapt your KOR machine to finish different substrates. Just slide it into place and recall your job settings for fast setup.
Machines on display

The KOR SR2-350 from our S-Series Inspection Slitter Rewinders was shown as part of ESKO's vision system offering, specifically, the AVT Helios automatic vision inspection system. This machine is ideal for economical short-run standard and filmic PS label finishing. The auxiliary stand allows for additional performance add-ons prior to entering the vision inspection area, including inkjet printing, Corona treating unit, and ink curing lamp. This allows 100% of your finishing in one pass.

Demo machine for sale! This SR2-350 demo machine is available for purchase. It is in like-new condition. Don't miss this rare opportunity to get an SR2 at a discount. See the listing below.

Video: Take a closer look at the S-Series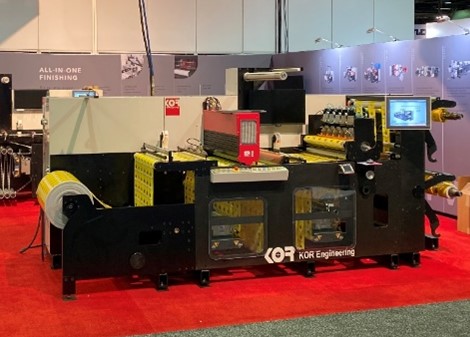 The LW1-660 was the featured machine in our booth. It handles 26" (660mm) wide shrink films, flexible packaging, and pressure-sensitive labels. It has the true flexibility of a hybrid and doesn't compromise on productivity.

Video: See the L-Series machines in action
Meet us at an upcoming show
With tradeshows around the world now in full swing, we have lots of travel planned so that you can see our machines live and meet with us in person. If you're planning to attend an upcoming show, please email us beforehand so that we can schedule a time to meet for coffee or give you a private machine demo. View our full show schedule here

Available demo & refurbished machines
DEMO MACHINE | SR2-350
Designed for 13" pressure-sensitive label stock, this machine delivers extremely economical, high-quality finishing. With a max. speed of 1000fpm, it flies through rolls in a one-step, single-operator process. Type: 13" PS Inspection Slitter Rewinder
Condition: new
Full details here

REFURBISHED MACHINE | KOR Iwasaki D-250 with KOR Unwind & Rewind
The sturdy D-250 features a user-friendly flatbed die-cutting line. It comes equipped with both an unwind and rewind.
Type: 10" flatbed die-cutting line
Year: 2008
Condition: used
Full details here
Got questions about a machine? Let's talk!
Reach us at sales@kormachinery.com or +1 877-257-3001 (Canada & USA)